E-mail:
Phone:
01 42 93 10 52
Portable:
06 83 27 23 80
Address:
75017 Paris, France
Maria D'Arcy
trained at The Gaiety School of Acting, Dublin and trained in Oriental Dance, with workshops in Turkish, Egyptian, Arabian, Persian and Balinese styles. In Ireland she performed frequently at Arts events, Cultural festivals and nightclubs. She appeared on Irish TV several times and was interviewed on the radio, for the curious mixing of Arabian dance to Celtic music.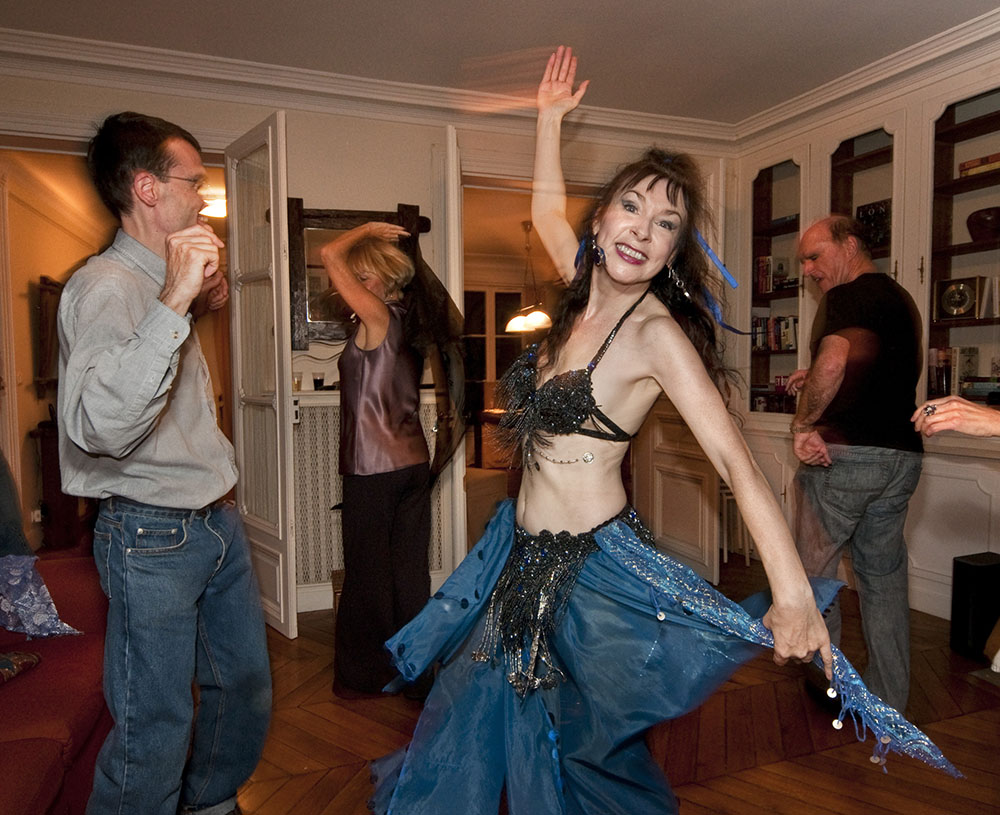 Maria D'Arcy dancing at Patricia Laplante-Collins' weekly soirée on rue de Rivoli in Paris. —photo by David Henry
Her acting credits around Paris, include shows, both, as Molly Bloom and Gerty McDowall from James Joyce's "Ulysses" and Oscar Wilde's "Salomé" and a humorous performance of "Tam O'Shanter" by Robert Burns. All these elements she combined into a One Woman Show entitled "Exotic Tales and Dances from Celtic Literature" which was staged at The Irish College, though performed frequently in segments at the Shakespeare and Company bookstore, Paris Soirées etc.
In July 2013 Maria danced for a music video promoting The mystery of love, part of a recording project for the chanteuse Julie Rose Wilde, a singer from Savannah Georgia; in 2014 a new chapter started, the world of burlesque.
At the Tea Theatre on île Saint-Louis she did an extract from "The Importance of Being Earnest" with Hissa de Urkiola and at Can's Pub-Theatre she participated in "Buddha's Aunt." Her latest participation was in a street fashion show by Swedish designer Yvonne B. in the Marais called "Chien Chic". Maria continues to dance regularly on boats on the river Seine and at international soirées.
She also appeared in One World Productions at L'Espace Pierre Cardin, and in 2004 in the run of Shakespeare's "A Midsummer Nights Dream" at La Comedie Française/Unesco. Her latest participation was for the «Semaine des Cultures Étrangères à Paris» at the Armenian Centre where she was in a Cabaret of foreign talent.
Maria continues to dance regularly and tell stories on boats on the river Seine and at international soirées.
Contact: Maria D'Arcy 75017 Paris France
Tel: +33 (0)1 42 93 10 52; e-mail: