Bloomsday June 16th 2013
join Maria D'Arcy, Sheldon Forrest and friends in Lionel Bloom's Swan Bar at 165, boulevard Montparnasse for
and his most famous literary work, 4–6 pm Sunday readings,
Irish sing-along and a spot of ceili dancing.

Maria D'Arcy introducing guest performers at the Bloomsday Anniversary at the Swan Bar in Paris, June 16th 2009. —photo by David Henry
Maria's idea to weave a one-woman show entitled "Exotic tales and dances from Celtic literature," was surely influenced by the fact that her mother was Irish and father was Scottish, bringing her insights into both cultures. Having studied voice and speech at the Gaiety school of acting Dublin she became aware of the beauty of good diction and interpretative phrasing (such as on the 100th anniversary of the publication of Ulysses) and these texts from the Masters were ideal for honing articulation. In Paris, as well as performing, Maria passes on these techniques as an English teacher of the Tomatis method.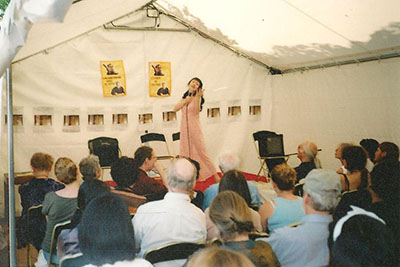 In awe of these masters, her greatest aspiration is to do justice to their compelling genius, bringing these works vibrantly to life.
Those who have seen her performances would add that if James Joyce, Oscar Wilde or Robert Burns were around today, they would be proud of Maria's performances of their works. She renders the literary works accessible, irresistible and exuberant. Many spectators say that it's the first time they have fully understood the piece, for she brings out humanity and credibility, since women are after all a hive of contradictions, just like men. The selected roles are a celebration of femininity and womanly wiles.
Maria is also a trained Arabian dancer and has performed to many an Irish audience, appeared on Irish TV and is now delighting The French International set by mixing in the magic of dancing in veils with the opium of pure literature. Recently, 2022, she learned the craft of voice over reels with a view to acting in commercials, etc. Calling all artistic directors and casting agents to look at her CV of theater performances.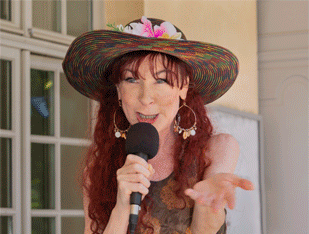 Oscar Wilde reworked the famous bible story of "Salomé" into a lyrical, intoxicatingly powerful legend of obsession and desire. A fiery, spoiled young Princess is riveted when she hears the thunderous yet velveteen voice of John The Baptist—and recognizes in him a passionate, frenzied spirit akin to her own. She aspires to seduce him languorously but is so outraged when he rejects, renounces, refuses even to look at her that she vows the kiss him, come what may. A truly perverse way presents itself: an offer of whatsoever she would please for deigning to dance for the lecherous King Herod. She dances the fabled, the entrancing "Dance of The Seven Veils."
Maria D'Arcy put on a performance of Oscar Wilde's Salomé on Saint Patrick's Day 2003 on Bateau Daphne, a boat on the river Seine in Paris, and again on February 23rd 2015 at Le Chat Noir; in 1999 she performed the Tam O'Shanter by Robert Burns at the Irish Cultural Center.
Watch an interview with Maria D'Arcy about her origins and the transition from Dublin to Paris, with Jilliana Ranicar-Breese.
At the book launch May 7th 2019 of Seventh Heaven, Seven Perceptions Maria presented an extract about the Atheist.
Lisez un texte de Lydia Khripouchine sur les contes et danses celtiques de Maria D'Arcy…