The Pitch
Themes
Is it when dying we understand how we should have lived?
Do we live out what inspires us?
Might our death come as a relief?
What continually pushes us on for more or otherwise?
Imagine we were born into the religion of another?

And just imagine if the other side really does hold eternal bliss…
Read extracts from Seventh Heaven, Seven Perceptions
What goes on in the mind of an Indian dancer, an ex-hippy, a suicide bomber, a lay Buddhist, a ritual-observing Jew, a Catholic mother or an Atheistic scientist as they face life, love, death and glimpse their chosen paradise. See how they view life, feel love, tremble with them as death looms up and join in their flight to Paradise. Put yourself in Paris, London, San Francisco, Calcutta, Hebron, Glasgow or Dublin and see how that can colour your perspective.
Who are the potential readers?
Those who wonder why there is a recent return to religion, be it Islam, New Age, or the other accepted persuasions and for those who worry about death or toss with the concept of life afterwards.
The Seed of the Novel:
My mum died of Cancer.
When you live through a gruelling, harrowing disease with someone you love it's not just modus operandi. It's a living nightmare that brings up so many questions.
Mum hadn't wanted to talk much about dying, yet when you know someone intimately you can often read between the lines—that which is too daunting to be said. On her deathbed, surrounded by us her family, something awesome happened.
She saw something—everyone speaks of a Light—but whatever she beheld in that light made her want to go—something irresistible fascinated her and transformed her attitude. A hushed, reverential word, "Father" emitted from her dying breath as she tried to stand up, staring ahead. Did she see her Jesus, the nucleus of her life? Her glowing eyes exclaimed she did. My mum may have been praying, "Father, into thy hands I commend my spirit", but I believe that what she beheld was her own version of God The Father.
This made me wonder what Jewish people might envision, or Muslims or Hindus—only nobody wanted to talk about dying when I asked. So I threw myself into imaginary shoes and came up with different ideas of paradise.
This book is a speculation into what marvels and regrets people experience as they face death. It is taken from an array of social backgrounds, seven different perspectives, representing the greatest religious influences of our world—Christianity, Judaism, Islam, Buddhism, Hinduism, Agnosticism and including Atheism.
Seventh Heaven, Seven Perceptions a novel by Maria D'Arcy (dépôt legal: 2003070106)
What's it about?
A mother dying of advanced Cancer relives nostalgic moments and clings to her belief in Jesus as the saviour.
A lifelong bachelor who loves sex but hates intimacy searches for a sense of belonging within the Jewish traditions.
The calling, training and mission of a suicide bomber is all so reasonable when you feel useless.
The culture and squalor of Calcutta is the backdrop for the mystique of Indian dance but a flu virus stops this dancer from performing again.
A lay Buddhist finds his pillars of life challenged when he falls head-over-heels in love and wants to attach forever.
Vicky's motto is serendipity and she is swayed by the lyrics of pop songs until an abortion makes her question all.
Knowledgeable university professor despises religion yet is fascinated by quantum physics—energy can be transformed but it can never die.
Words of acquired wisdom come out as these spiritual seven compare stories.
Where does it take place?
The reader slips into the shoes of seven different characters situated in Paris, London, San Francisco, Calcutta, Hebron, Glasgow and Dublin.
When does it happen?
The story is set at the beginning of this new 21st century, with its context of contagious flu, terrorism, HIV and the question of materialism or atheism as the best way to live.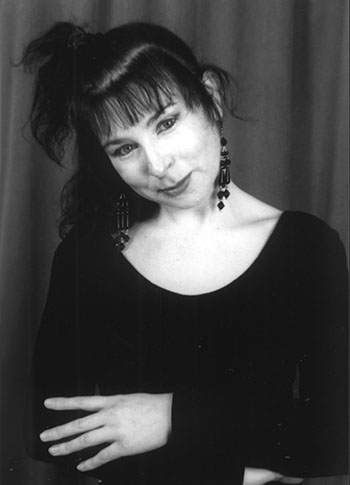 Maria D'Arcy.
Why did you write it?
To encourage cultural tolerance and examine the philosophical questions that almost everyone faces at some juncture in their life, when it comes to the death of a loved one, the fear of dying oneself, of getting old, of being alone and why we are always craving for something more in life.
How is it written?
With an inner dialogue approach it mixes psychology and metaphysics with some philosophical reflection but it is not designed to be an academic study—it is easy to read. In a light, humane and sometimes entertaining way it covers life and death, love and sex, song and dance, food and fasting, exuberance and despair.
About the Author:
Maria is better known in Dublin and Paris for entertaining literary lovers with performance extracts from James Joyce, Oscar Wilde and Rabbi Burns, this being her first book. On Irish TV you may even have glimpsed her on a music video, a comedy sketch or an interview. Perhaps you were on a riverboat on the Seine, or at a soirée and saw her show. You may even have seen her performing Shakespeare with a troupe at The Louvre's Comédie Française. Now we have her sensibilities and perspectives into what essentially life is.