| | |
| --- | --- |
| Book Title: | Seventh Heaven, Seven Perceptions |
| Author: | Maria D'Arcy |
| Nationality: | Irish |
| Publisher: | Gemini-Gemini ISBN 978-1-9161093-0-8 |
| Genre: | Magical realism/ Mystical drama |
| Target Audience: | Adults. |
Why should this book be read or made into a film?
The story weaves a lingering message, ripe for our epoch with all its terrorist atrocities, epidemics and catastrophes. Many people are being confronted with death. This fast-paced philosophical story can help people of varying persuasions to become more tolerant and view their world differently. The theme is universal for people who are asking questions.
Potential film adaptation.
Do you have any film references in mind?
The Da Vinci Code for its fascination with religion, Forrest Gump for both its musical journal and accessible philosophy, as well as 21 Grams for its ability to intertwine different human stories. The link between the physical and metaphysical would need to be shown. There is one recurrent scene redolent of the vast calming desert in Bertolucci's The Sheltering Sky.
The story would be ideal for an international co-production since the chapters play on visually different settings; the opulence and squalor of Calcutta, the sacred shrines of Israel, the urban Jewish quarter of London, Christmas festivities in Dublin bars, the council houses of Glasgow, romance under the bridges of Paris and the hippy ambiance of San Francisco.
Logline
Seven people meet as they are ascending into the Heaven each most wants or expects. The obstacle in getting into their paradise is that they must feel empathy with each other. They are a Muslim, a Jew, an Atheist, Catholic and Protestant, a Buddhist and Hindu.
Short Synopsis:
Supposing that Heaven existed and that the paradise we saw at the moment of our death was the fruit of our earthly conditioning, combining with our vast subconscious? A mystic mediator welcomes seven recently-departed spirits onto the intermediary plain between Earth and Heaven. Each has beheld their cherished concept of Heaven and is in awe. The Mediator sets them a challenge. To integrate into this wonderful Heavenly domain they must abandon all form of prejudice and find compassion for the other six in the group. The mediator retraces their earthly lives:
of Bridget, a Catholic mother suffering from cancer who believes in miracles; Joshua, a lonely Jew who longs to be a father; Kamal, a Muslim who wants his existence to have counted; Shandra, the Hindu-dancer who wants her daughter to have better karma; Bruno, the Buddhist who is so in love he wants to attach for life; Vicky the Agnostic-Protestant who prefers to focus on sex, drugs and rock 'n' roll and finally Eamonn the Atheist who scoffs God but realizes quantum physics is discovering invisible dimensions. They need to give the seal of approval to one another.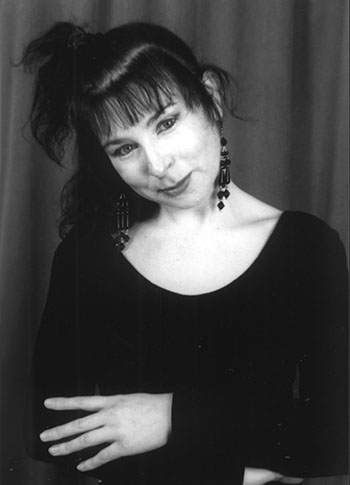 Maria D'Arcy
A quote from the book
Familiar figures swirled around. Yes, there was Shiva, Vishnu, Brahma, and around them other Gods and Goddesses inviting her to join them in a dance. Hindustani music welled up in her ears and Yama, the God of Death, in orange raiment, held out his hand to help her. She was elevated towards them and they began turning, gliding, leaping, twirling, floating, flying, smiling, a symphony of Gods. She felt connected to the eternal energy of the universe. But when she looked down she saw her husband crying over her still body, the doctors lifting off the tubes, love and pity for him fused. She sent back a wave of healing. Then she turned back to the merry Gods and as she travelled onwards she could make out a forthcoming funeral procession moving downstream on the Ganges, towards Varanasi, with her body draped in a blue dance sari, elevated on a sandalwood gnat, and sandalwood sheds a lovely fragrance when it burns. Passers-by in turbans and saris were catching this whiff and swimming out from the river banks, seizing the opportunity to give messages for her to pass on to the heavens, for she was indeed going back to the source, to join the Eternal Breath, and at the peak of the lightness she saw the face of her little daughter far below, in time to come, dancing in a temple…
About the author
This is Ms D'Arcy's first novel. Comparative psychologies fascinate her. She graduated from college with merit in the domain of philosophy, psychology and sociology. Moreover, her training in the Gaiety School of Acting, Dublin, taught her to create vivid biographies of characters. Parallel to writing she works as an English teacher in Paris.
Special notes and requests:
This novel was initially entitled "The Hour of our Heaven."
Intellectual rights of Maria D'Arcy registered: 2003070106 Société d'Auteurs Multimédia, France
Read extracts from Seventh Heaven, Seven Perceptions
Contact: Maria D'Arcy 75017 Paris France
Tel: +33 (0)6 83 27 23 80; e-mail: